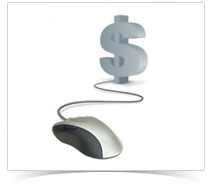 Ace-Smart.com offers E-commerce Payment Gateway which best suits for companies who sell or serve their customers online. Keeping in view of the increasing online shopping customers, Ace Smart has come up with three different plans for going online. This can be installed in Corporate, Resellers, Dedicated Server Accounts only.
Internet Payment Processing refers to the process of obtaining the payment details on the Internet from the customer in a secured environment, processing the data and authenticating the transaction through the acquiring bank.
Our Payment Solution is fully equipped to handle the volume of transactions in a secured environment, processing and transmitting data quickly over the Internet.